From reading the title, some of you would have thought that the winner was the Apple iPhone X. Even so, Huawei Nova 3i should not be underestimated. When we tried it there were several features in the smartphone with the color gradation that could not be surpassed by the iPhone X. What were you curious about? Check here.
Design
Speaking of design, the two body of the smartphone is made of glass on the front and back, while the edges are made of metal. The use of glass material certainly makes the smartphone look shiny, especially when exposed to light.
For its body dimensions, Huawei Nova 3i is slightly larger with dimensions of 157.6 x 75.2 x 7.6 mm while the iPhone X is only 143.6 x 70.9 x 7.7 mm. Likewise with the screen, Nova 3i 6.3 inches resolution FHD + 1080 x 2340 pixels and iPhone X 5.8 inches 1125 x 2436 pixels. Both of them have a screen ratio of 19.5: 9.
In Indonesia, iPhone X has two color choices, namely Space Gray and Silver. Nova 3i colors are also two, namely Black and Purple Iris. When viewed, in fact the Iris Purple color is more interesting than the two colors of the iPhone X. This combination of color gradations between blue and purple successfully adds a beautiful and elegant impression like the previous successor, Huawei P20 Pro.
At the rear, both smartphones both adopt a vertical dual-camera module with one LED flash. There is also a fingerprint sensor on Huawei Nova 3i which can be considered quite fast, while the iPhone has removed this sensor and replaced it with a Face ID.
Turning to the front, both iPhone X and Nova 3i are both equipped with bangs on the screen, but bangs on the iPhone are slightly wider. Especially for users who don't like bangs, Huawei offers a hide notch feature that can make bangs as if they disappeared.
Camera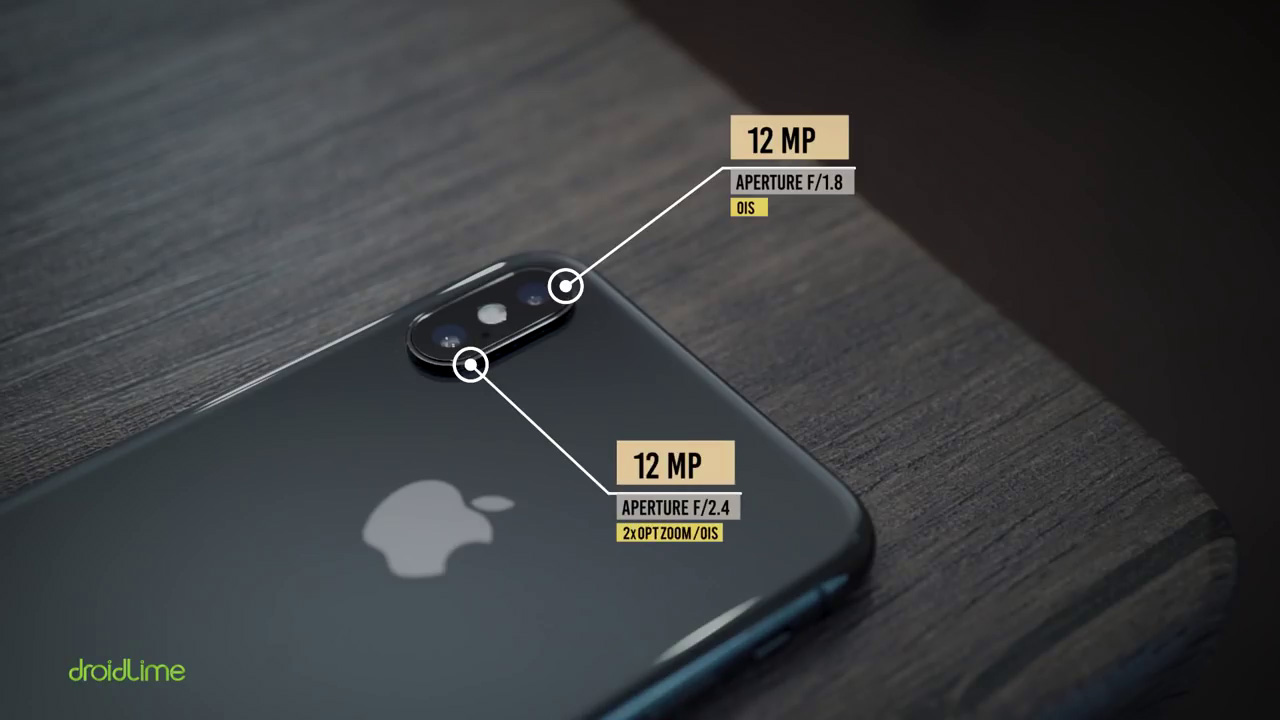 In the photography sector, the iPhone X has two main 12 MP f / 1.8 lenses equipped with OIS and a 2x MP telephoto zoom 12 MP f / 2.4. As for Huawei, there are four lenses in Nova 3i, two main cameras, 16 MP + 2 MP and two selfie cameras with 24 MP + 2 MP resolution.
From the reviews we've discussed before, the characteristics of the iPhone X camera haven't changed from its predecessors. The shots are almost always natural with accurate colors. The low light performance is impressive, especially if during the day or when there is a lot of light.
But the iPhone X camera has not been supported by artificial intelligence. While for Huawei Nova 3i already equipped with AI that is able to recognize 22 categories with 500 more different scenes. That way, users will get photos with more "shaky" colors when shooting with this smartphone.
In addition, as usual Huawei also provides so many shooting modes. The most interesting of course is the important light mode that is his trademark. That way we can play with light at night.
But if you often record videos using a smartphone, it must be admitted that the iPhone X camera is superior. Yes, this is indeed the superiority of the iPhone which is even difficult to beat even though the flagship Android.
Software
As is known, Huawei Nova 3i brings the EMUI 8.2 operating system based on Android 8.1 Oreo. Whereas the iPhone comes with iOS 11.1 which can already be upgraded to iOS 12. The features of both of them also vary.
For the navigation system, the iPhone uses only system gesture because it has left the buttons. While Nova 3i has three choices, normal navigation buttons, single key and navigation dock.
In the App drawer section, if iPhone transfers all applications on the home screen page, Huawei is slightly better because it provides two choices, you can put all at once or use the App Drawer. These settings can be found in the settings menu.
At Huawei Nova 3i it is also superior because it has three battery saving systems, such as Power saving mode, ultra power saving mode and auto screen resolution. Then there is also the Game Acceleration feature that will automatically make the smartphone's performance in its maximum state when playing games.
Hardware
Turning to its innards, the iPhone X launched last year was equipped with Apple A11 Bionic hexa-core chipset with 2x Monsoon + 4x Mistral configuration combined with an Apple GPU graphics processor. For RAM and internal memory itself 3 GB and 64 GB / 256 GB.
Then for Huawei Nova 3i already using the latest processor made by Kirin, the Kirin 710 octa-core 4 × 2.2 GHz Cortex-A73 & 4 × 1.7 GHz Cortex-A53 and Mali-G51 MP4 GPU. Although classified as a mid-range smartphone, Nova 3i has 4 GB RAM and 128 GB jumbo internal memory and MicroSD support up to 512 GB.
When tested playing a number of titles, both the iPhone X and Nova 3i were able to run a variety of high-class games to the upper class smoothly. Even so, it remains smoother when playing games on the iPhone X.
As we know, besides the hardware of the iPhone X classified as a flagship, game developers are also more optimal in developing games for the iPhone. This is because the iPhone variants are few, unlike Android, which has so many series that the optimization isn't as good as the iPhone.
Price and Availability
In Indonesia these two smartphones have been sold officially in various online and offline stores. Of course the price comparison is very flat, like earth and sky. Yes, the official price of the iPhone X is priced starting at IDR 14.7 million, while the Huawei Nova 3i starts at IDR 3.6 million.